AT THE ORDER OF FRANCISCANS OF THE EUCHARIST WE BOLDLY PROCLAIM OUR CATHOLIC IDENTITY.​
ORDER OF FRANCISCANS OF THE EUCHARIST
ORDER OF FRANCISCANS OF THE EUCHARIST SECULAR
MINISTER GENERAL

​

AND BISHOP
ORDER OF FRANCISCANS OF THE EUCHARIST

​
​
MOST REVEREND +MICHAEL CUOZZO, OFE
AUXILIARY BISHOP
ORDER OF FRANCISCANS OF THE EUCHARIST

​
MOST REVEREND +ROUVILLE M. FISHER, III, OFE
MINISTER PROVINCIAL – NORTH AMERICAN CONTINENT

​
PROVINCE OF SAINT MARY THEOTOKOS
VERY REVEREND MAX M. ZAPANTA, OFE
MINISTER PROVINCIAL – ASIAN

CONTINENT

​
PROVINCE OF SAINT ALPHONSA
VERY REVEREND ANEESH (DEVASIA) PUTHENPURACKAL, OFE
MINISTER PROVINCIAL – AFRICAN

CONTINENT

​
PROVINCE OF SAINT CHARLES LWANGA AND HIS COMPANIONS
VERY REVEREND ABEL MAKAHAMDZE, OFE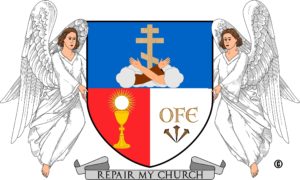 OFFICIAL SEAL OF THE
ORDER OF FRANCISCANS OF THE EUCHARIST
​
​
​
​
Ministry, Mission, and Service of Married Roman Catholic Priests
Married Roman Catholic priests are priests who married after ordination in the Roman Catholic Church. A priest is always a priest: "sacred ordination never becomes invalid." (Canon 290)​​​ "Like Melchizedek, you are a priest forever." (Psalm 110:4)​

​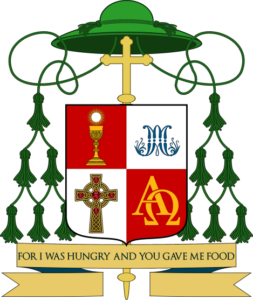 ​
MOST REVEREND MICHAEL CUOZZO, OFE
​
Canonical Basis for Married Roman Catholic Priests to Function in Danger of Death
Situations:
By Reverend Sister Patricia Ann Cuozzo, OFES, RN, BS, MS
The information posted will serve several purposes:
1) a reminder to married Roman Catholic priests that there are some canonically supported ministries in which they may participate;
2) provide information to laity who may be otherwise uninformed;
3) provide assurance to all that these functions are canonically supported.
As members of the Order of Franciscan of the Eucharist (OFE) and Order of Franciscans of the Eucharist Secular (OFES), we recognize and respect the authority of local bishops and the entire Roman Catholic hierarchy, including, and especially, the bishop of Rome the pope.
The decisions of OFE members to enter into marriages did not, and do not, eliminate the desire to serve the people of God, and it is disappointing to be unable to do what we feel we have been called to do.
Under discussion here is the valid sacramental function of married priests in certain situations that are allowed under canon law. Whereas there are canons that support performance of some priestly functions merely upon request by lay Christians, the focus here is on sacramental functions at times when there is danger of death.
It is important that canon law be cited accurately and within context, and that interpretation and commentary be done by Roman Catholic scholars, theologians, and canon lawyers. Such will be the case here.
To provide the basis for discussion of valid priestly functions when there is danger of death, pertinent canons and commentary are presented here as links to information that has been posted on the OFE website. All of it is comprised of canons and/or commentary by canon lawyers. It may be helpful to review that information before continuing with this article. Those links will remain on the website for use as a reference. They are:
Canonical Reflection on Pastoral Emergency and the
It is quite clear that canon law allows for priestly function in various situations, especially when there is danger of death, and therein lie multiple opportunities to pursue our mission of serving the people of God. The circumstances described could occur at any time and place, and are not limited by geographical or jurisdictional boundaries. They are, rather, purely spiritual in nature and are clear examples of the needed ministry that our Lord Jesus Christ has called us to fulfill. In view of the fact that there is a world-wide shortage of Roman Catholic priests, the canons cited may actually provide the basis for a more extensive ministry than would be available to married priests otherwise. "The salvation of souls … is always the supreme law of the Church" (Canon 1752).
Since "danger of death" is not clearly defined, it is important to use good judgment when situations of possible need arise. Desire to serve must go hand in hand with a clear need and, when appropriate, an indication of desire from the individual who is gravely and/or terminally ill.
Two obvious places where danger of death may create a need for sacramental ministry, particularly absolution (Canon 976), are hospitals and hospices. Priests who function within defined jurisdictions may be less available at a given time than is optimal, and married priests can fill the need. Less obvious, perhaps, is the very ill patient who is being cared for at home and is not in "official" hospital or hospice care. Such individuals are equally in need of ministry.
It is possible that seriously ill people, their families and caregivers, and even the professionals who deliver their care may be unaware that married priests may be called upon to minister to the patient and/or family, or they may be unclear as to the "rules" that apply in such situations, and are therefore reluctant to call a married priest. It can be very helpful to give a simple explanation, emphasizing that such clerical functions are fully supported by canon laws and intended to fill an otherwise unmet need.
Whereas absolution may be the most commonly requested ministry for those who are gravely and/or terminally ill, canon law also provides for baptisms and even confirmations (Canons 861 and 833). Married priests should be prepared to serve these needs, regardless of location of the person in need.
Canon 1335

provides the basis of another opportunity for married priests to minister to those in danger of death. Priests may offer private masses for anyone who requests it for a relative or friend who is dying. Such requests may be made via this

website page

. Generally, these masses are for the intentions of the dying person, who is not present. If there is a request for a mass at which the dying person is present, one must give careful consideration before agreeing to preside, specifically to determine that there is an urgent need and a sincere request that cannot be fulfilled in a timely fashion by priests who function under established jurisdictions.
Our focus, of course, in these and in all forms of ministry, is to perform priestly functions for Roman Catholic laity. We must not forget, however, that there may be non-Catholics who are in need and may request some form of ministry. Efforts should be made to meet those expressed needs so far as allowed by canon law.
Through the years, changes in the institutional Church have occurred gradually and have had multiple determinants/influences, e.g., changes in papal/College of Cardinals world view, research findings by scriptural/historical scholars and theologians, changes in world social, political, and governmental structures and philosophies. It is our hope that the universal acceptance of Roman Catholic married priesthood will come to fruition as one of these changes. Even before the existence of the personal prelature of Pope John Paul II, remote and otherwise under served areas throughout the world began to accept and implement married priesthood, and it is our prayer that we will see the full implementation of the canonical changes that the Church must make in order for it to welcome all celibate and married priests who are called to serve the people of God.
Note: a personal prelature is a canonical structure of the Roman Catholic Church which is comprised of a prelate, clergy, and laity who undertake specific pastoral activities.
In the meantime, willingly serving those of danger of death or in other canonically supported situations can go a long way toward promoting acceptance of married priesthood. Positive interactions with dying patients and their families, loved ones, and caregivers, not only meet immediate needs, they demonstrate the availability of an often untapped resource and may well change some negative or stereotypical thinking on the part of traditional Roman Catholics who have always held that "father" must be celibate in order to serve.
OFES members may also make a significant contribution toward acceptance of married priesthood. When there is a need that cannot be met by priests within a given jurisdiction, directing laity to available married priests informs family and friends of the availability, and may lead to a positive interaction. Having a basic knowledge of canonical support of pertinent functions could also help to open doors to acceptance. Though often initially surprised, many people are glad to avail themselves of a resource if it does not violate Church law.
Unrestricted priestly ministry is the ultimate goal, of course, but there may be many opportunities to serve those in need while we wait, hope, pray, and work toward that day. Using good judgment and maintaining careful observance of canon law can provide paths for married priests to minister to God's people.
Reference Material:
Copyright © 2015 – 2023 All Rights Reserved. Order of Franciscans of the Eucharist is a registered 501(c)(3) non-profit corporation.

​

​

​

​